AMA Supercross Round 17 Las Vegas 2017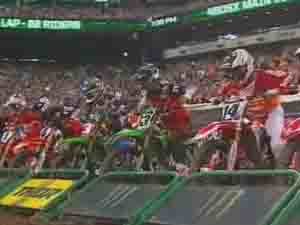 Watch the full 2017 Monster Energy AMA Supercross round 17 from Las Vegas. Tomac is 9 points behind Dungey. Nobody thought it'll be this close at the last race of the season..
I'll embedd the full replay of every heat race and every main event as fast as possible and post it on facebook and twitter.






You won't find result's or spoiler's on this site!
250 Heat race 1

2017 Las Vegas Supercross 250 West Heat 1 HD von cbm-motorsports
250 Heat race 2

2017 Las Vegas Supercross 250 East Heat 2 HD von cbm-motorsports



450 Heat race 1

2017 Las Vegas Supercross 450 Heat 1 HD von cbm-motorsports
450 Heat race 2

2017 Las Vegas Supercross 450 Heat 2 HD von cbm-motorsports




250 LCQ

2017 Las Vegas Supercross 250 East West LCQ HD von cbm-motorsports



450 Semi 1

2017 Las Vegas Supercross 450 Semifinal 1 HD von cbm-motorsports
450 Semi 2

2017 Las Vegas Supercross 450 Semifinal 2 HD von cbm-motorsports
450 LCQ

2017 Las Vegas Supercross 450 LCQ HD von cbm-motorsports
250 East west shootout

2017 Las Vegas Supercross 250 East West… von cbm-motorsports



450 Main event

2017 Las Vegas Supercross 450 Main Event HD von cbm-motorsports



Comments